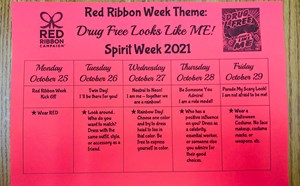 This year the theme for Red Ribbon Week is Drug Free Looks Like ME! Each day will have a different spirit day. We'd love to see you participate.
Principal's Message
To all our parents, staff and students:
Welcome to Morningside Elementary School.  We are excited for the 2020-2021 school year! Our highly-skilled teachers and staff are committed to equipping all students with the academic and personal skills for lifelong success. We work hard to offer an exceptional education for our dedicated scholars.  We're grateful to have the support of active and engaged parents.  We encourage all parents to visit our campus and join our PTA to help bring additional programs, field trips, and resources to our students.  
Please feel free to stop by my office to say hello.
Our School
Morningside Elementary School is committed to helping all students succeed.  We are proud to offer: 
Small class sizes with supportive teachers who help students reach high academic standards
Innovative use of technology as part of daily instruction
After school intervention and enrichment opportunities, at no cost to families
A Mustang Meadow garden to provide students with hands-on learning about the environment and agriculture
Strong parent involvement through PTO and parent education meetings
Exciting instrumental and choir programs to bring out the inner musician in students
Annual field trips bring learning to life for Morningside students